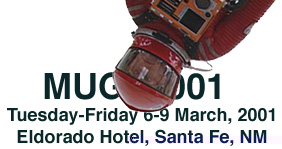 ---
This page contains links to our agenda, presentations, Daylight software and all documentation.
MUG '01 links
---
Agenda V
The MUG '01 schedule will be similar to previous years'.
New: Thursday evening poster/demo session with refreshments.
Poster session:
MAC OS X ..... Ragu Bharadwaj
SMILES Brainstorming Session ... John Bradshaw
Setter - DNA Mining ... Bill Bruno
DayPython ... Andrew Dalke
3D Binary Fingerprints ... James Haigh, Barry Pickup, Anthony Nichols
Avalon ... Bernd Rohde
Ashgate Reference Series ... Bill Milne
Hacker Challenge???
---
Daylight Chemical Information Systems, Inc.
info@daylight.com