---
Overview
Daylight will be producing a new kind of TCP/IP server called adeptserver. Originating from a discussion during the MUG99 meeting in Santa Fe, it was intended to provide a depiction tool, i.e., a utility for delivering customized 2D depictions in a distributed manner. During development this summer, it evolved into a generic program-object-based compute server which is likely to be useful for many other functions.

The adept architecture is very simple. adeptserver is a normal, full-blown TCP/IP server, similar in form to thorserver, merlinserver and daytoolserver. adeptserver communicates with clients primarily via Thor datatrees and uses program objects to do computational tasks such as generating and rendering pictures. The overall system is robust, flexible and very extensible. It is expected to meet our long-term structural display needs.
---
Features
adeptserver provides a "full blown" TCP/IP service

robust socket connections
separate client contexts
logging, "keep-alive", etc.
enterprise-wide and/or Internet-style service

Communication is done via Thor datatrees (TDTs)

Simplifies database integration

Processing is done by program objects

separate processes for robust server operation
high-startup-cost algorithms are OK
simplified coarse-grained multiprocessing

All types of files may be used

Input files such as .smi, .sd, .pdb, etc.
Output files such as .gif, .ps, .pdf, etc.
New datatypes (e.g., GIF) are required (no big deal)

Not limited to "2-D molecular diagrams"

Flexible highlighting and annotations
Reactions are "free"
Display of 3-D data (e.g, conformations)
Open-ended system for the future: reaction schema, etc.
---
adept architecture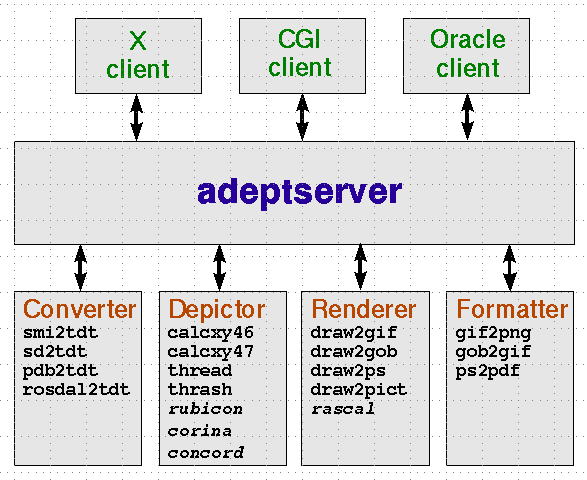 ---
program objects
A program object represents a running program

separate processes communicating via "pipetalk"
talk via string objects and do anything else they need
support a few managment messages (version, notice, etc.)
define their own messages

program objects are real objects in the Daylight Toolkit

access is architecture- and language-independent
data interface is well-defined and "limitless"

program objects are already fully-supported by Daylight

merlinsmartstalk used for SMARTS searching performance
"contrib" programs (medchemtalk, nt_echotalk, merlinbintalk, etc.)

adept program objects read and write ASCII strings

most read a TDT, add something to it, and write a TDT back
other types of strings may also be used, e.g., .sd files
---
depictor class
A depictor program generates coordinates

May computed (calcxy46), retrieved (thread), ... or both (thrash)!
SMILES to (x,y) coordinates
SMILES to (x,y,z) coordinates
others?

calcxy46 and calcxy47 (a.k.a. raguxy)

calcxy46 uses the v4.6 dt_calcxy() algorithm
computes 2-D coordinates from SMILES only
implemented as the program calcxy46_talk
calcxy47 is similar, but provides a more popular layout

thread

thread simply reads 2D coordinates from a Thor database.
The database might be corporate or commercial (e.g., spresi).
Just $SMI and 2D datatypes are required (finesse security issues?)

thrash is neat!

thrash starts with a database that thread might use
structure is reduced to an unlabeled graph
2-D coordinates are stored with the "unlabeled SMILES"
Works like thread, but only needs a "shape match"

3-D generators

Model generators can be used as 3-D depictors
rubicon, corina, and concord are obvious candidates
---
renderer class
A renderer program generates a visual representation

renderers usually produce GIF, PICT, PostScript, etc.
... not always: e.g., graphic metafile formats like GOBs (draw2gob)

renderers are not limited to 2-D

rasmol is a flexible renderer
Many other candidates: pluto, midas, grasp, etc.

Rendering is non-trivial!

Aesthetic problems can never be solved perfectly. Ah.
One approach: "Pick one and live with it." (works for a while)
Another approach: "Provide maximum flexibility." (same)
adept approach: "Provide both, plus extensibilty." (hard!)
---
converter and reformatter classes
These classes change encoding but not representation

Should be easy well-defined problems.
Really, they should be easy, but sometimes they aren't.

converters change the format of the represented entity

smi2tdt, sd2tdt, rosdal2tdt, etc.
pdb2tdt, pdbdeom2tdt, pdbrasmol2tdt, pdbconcord2tdt ... ouch

reformatters operate on the final encoding directly

gif2png, gob2gif, ps2pdf, etc.
reformatters are converters of graphic object representations

Do we need these classes?

Perhaps this work should be done on the client.
Lots of implementations are available (babel, mogrify, xv, etc.)
Not currently implemented in adeptserver.
---
other classes
Composite methods

Composite methods are composed of simpler methods
Composite methods don't need separate program objects
E.g., a composite depiction method might be:

if molecule's 2D data is in CorpDB, use that
else if molecule's 2D data is in spresi, use that
else if molecule's shape is in CorpDBshapes, use that
else if molecule's shape is in spresi, use that
else if ringsystem(s) are in CorpDBshapes, fix those parts
else if other ringsystem(s) are in spresi, fix those parts
else if ringsystem shape are in CorpDBshapes, fix those part
else if other ringsystem shapes are in spresi, fix those parts
else compute using calcxy47

non-graphical methods

adept is general enough to use as a compute server
E.g., clogptalk already exists
Is this a good idea? Do we need new classes or not?
---
---
The adept toolkit
The adept toolkit will not be needed for most purposes

Interfaces will be provided (e.g., treetalker and CGI programs)
Most customizations done with existing progob toolkit

The adept toolkit provides powerful object-level access
---
Outstanding issues
Security

On one hand, it would be nice not to need passwords
On the other, corporate types seem to like them
In any case, we need security for progob management

Format conversion class/method

Should input conversion be part of adeptserver's job?

Priorities

publication quality PostScript
new formats, e.g., Display PDF
old formats, e.g., "ChemDraw direct"
reaction schema
non-graphical functionality
---
Daylight Chemical Information Systems, Inc.
info@daylight.com