---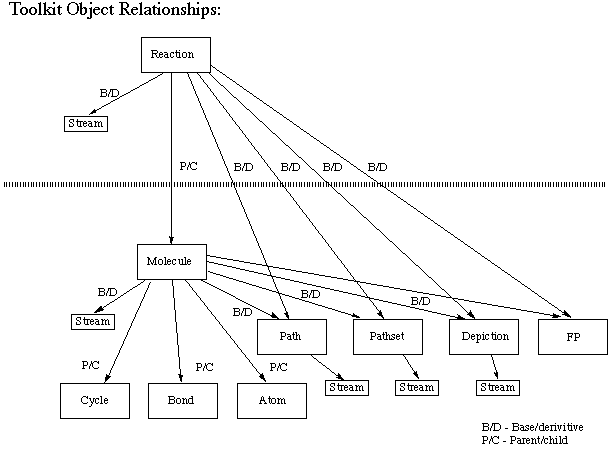 Parent/child: A child is an integral part of its parent; a parent is made up of one or more children. Creating/destroying/modifying a child affects its parent.

Children of a parent are normally accessed with dt_stream().
The parent of a child is accessed with dt_parent().

Base/derivative: A derivative is a separate object, formed from its base. The characteristics of the base object determine the characteristics of the derivative when created, however operations on the derivative never affect the base. The derivative can be created/destroyed/modified without affecting the base.

Modification of the base object causes any derivatives to be deallocated.

One can't get access to all of the derivatives of a given base object (eg. all depictions of a molecule).
The base of any given derivative object is accessed with dt_base().
A parent/child example (molecule/atoms):

void do_stuff(dt_Handle ob)
{
  dt_Handle atoms, atom, myparent;

  atoms = dt_stream(ob, TYP_ATOM);
  while (NULL_OB != (atom = dt_next(atoms)
    {
       /*** perform operations on each atom ***/
       ...
       myparent = dt_parent(atom);
    }
  dt_dealloc(atoms);
  return;
}

A base/derivative example (molecule/depiction):

void do_other_stuff(dt_Handle ob)
{
  dt_Handle depiction, mybase;

  depiction = dt_alloc_depiction(ob);
  ...
  dt_calcxy(depiction);
  dt_depict(depiction);
  ...
  mybase = dt_base(depiction);
  return;
}