---
Difference fingerprints
The fingerprint -x program option will produce "difference fingerprints" for reaction SMILES, rather than "normal" fingerprints. Such fingerprints represent the difference between reactants and products and characterize the transformation (sans mapping).
Unlike normal fingerprints in which bits set represent the presence of structural features, the bits in difference fingerprints represent the presence of a difference in the frequency of occurrence of structural features.
Difference fingerprints cannot be used at the same time as normal fingerprints with the 4.51 version of merlinserver. However, they can be loaded as "alternate" fingerprints for experimentation and used for clustering. We expect to rectify this limitation in future releases.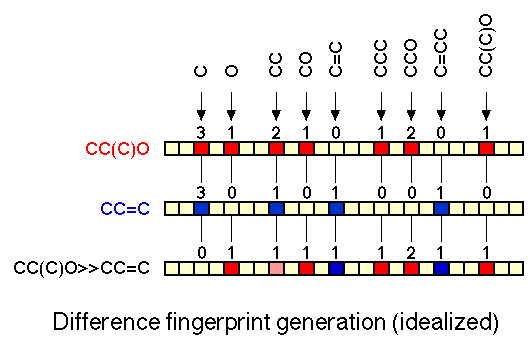 ---
Daylight Chemical Information Systems, Inc.
info@daylight.com